Welcome to Mypower - the UK's leading solar panel company
Installing solar panels for your company since 2010
Mypower design, supply and install award winning solar photovoltaic (PV) systems which enable companies to generate their own electricity, lower their long-term energy costs and reduce their impact on climate change. 2020 saw us celebrate our 10th anniversary. Commercial solar power is flourishing and we continue to see significant growth in enquiries, with commercial, industrial and agricultural customers seeing the real short and long term environmental and commercial benefits of installing their own solar PV systems.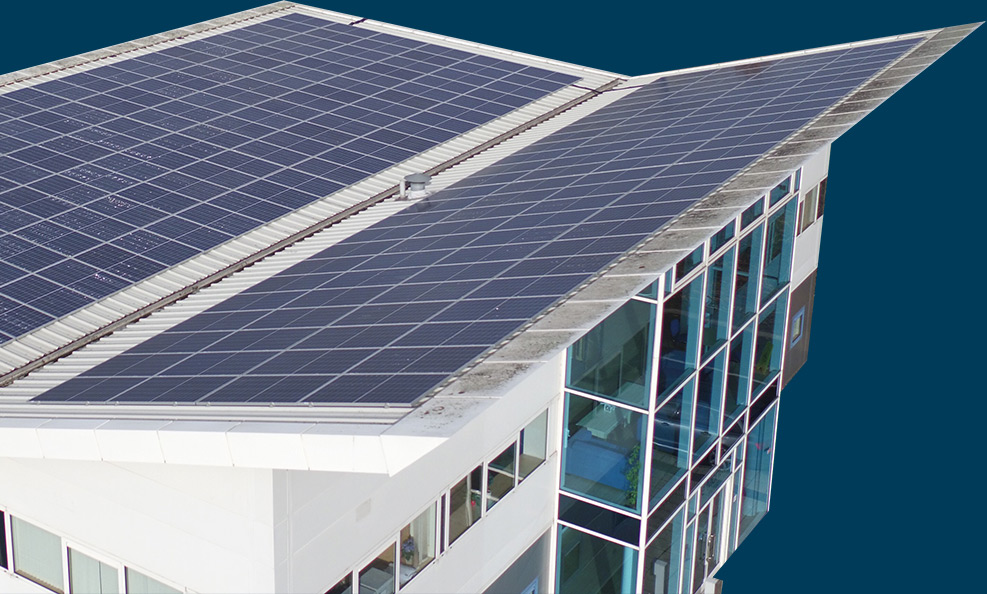 1/3 of the price of grid supplied
Over 40% of Britain's energy was generated from renewable sources in 2020, with solar in particular continuing to break records. This is no surprise as onsite solar generated electricity is typically 1/3 of the cost of grid supplied electricity. More and more businesses are installing solar panels and reaping the huge benefits offered by solar PV.
With a Mypower solar PV installation, businesses can take control of their own electricity supply from the roof or grounds of their premises. Solar panels for companies provide a reliable flow of low-priced electricity to use on site. Mypower are highly experienced in Commercial solar panels, Agricultural, Industrial and Community solar installations, including roof, ground mount and bespoke solutions.
High energy user? Spending £1,500 or more per month on electricity?
Any size of business can feel the significant benefits of Solar PV

Businesses with high energy use - such as food manufacturers, transport and logistics companies and those with refrigeration and storage warehouses - can considerably reduce their electricity overheads. Other advantages include energy security and substantial carbon footprint reductions, with the latter helping some of our customers to secure new and highly valuable contracts. Read more about our business solar panel service.

Foward-buy your electricity at a much lower rate

With solar PV you can effectively forward-buy your electricity at around 5 pence per unit - a figure that includes estimated operations and maintenance costs. This compares with a rate of 15-16 pence per unit from the grid; a significantly higher cost. Not only is solar energy much cheaper but you can protect your business from inevitable electricity price rises.
Lowering your carbon footprint
Climate emergencies are being declared on a national, regional and local level. Now is the time to act and drive down your business's carbon emissions.
With a Mypower solar PV installation, companies can demonstrate their commitment to a sustainable future and gain competitive advantage over peers when tendering for business. Mypower offer a detailed monitoring system which can be used to display energy production and CO2 savings in the reception area, showcasing your installation and its benefits.

Energy independence
Decreasing your reliance on the grid helps to reduce the likelihood of blackouts.
The National Grid has already warned UK businesses to be more cautious with their energy use - otherwise they'll need to impose electricity sanctions because they can't support demand. Demand is set to grow further with the rapid uptake of electric vehicles, but installing solar panels on your business premises would enable your company to generate its own energy from the roof.
Our Ethos
Mypower is dedicated to giving every customer the same quality service, time after time.
We take a great deal of pride in customer care, which is why we receive the majority of our business from customer referrals. We handle every stage of the operation and will update you every step of the way. We understand that company owners and managers are extremely busy and don't want to be bogged down with paperwork, so we handle all of that for you - from the beginning of the process to the end.
Since 2010, we've installed nearly 60,000 solar PV panels which produce more than 14 million units of electricity each year. This saves over 3,000 tonnes of CO2 from being released into the environment annually - the same effect as planting 16,500 trees each year. In 2016, Mypower made history when we designed and installed 150 solar PV panels on the roof of the beautiful 1,000 year old Gloucester Cathedral. We went on to win the National Solar Power Portal Awards 2017 and the CorporateLiveWire Energy & Mining Awards 2017, while receiving highly commended in both the British Renewable Energy Awards 2017 and the SW Energy Efficiency Awards 2017.
Mypower source the highest quality inverters, mounting frames and solar panels for industrial buildings, commercial buildings and agricultural buildings to ensure they perform year after year. We design each system individually to ensure that every customer gets the very best out of their solar panels.
Our solar PV installations come with panel warranties of 25 years, thus guarding against energy price increases for a long time ahead. A five year warranty is provided on all our installations for extra assurance.
Featured Case Studies
Take a look at what we have been up to recently