Case Studies
Mypower's Quercus House, Gloucestershire
On our own building we have a 50kW solar PV system. Over the last 6 years, the PV system has met 50% of our electricity needs every year. To achieve this, we opted to install a larger system. Of the 47,000 kWh we generate per annum, approximately 54% of this is export and sold to the grid.
Stewart Golf Ltd, Gloucestershire
Mypower designed and installed a 49.84kWp solar PV system that will meet nearly two thirds of Stewart Golf's annual energy consumption needs. The 178 panels fitted to the roof of the Stewart Golf factory delivers 46,000kWh of electricity a year and saves 15 tonnes of carbon emissions.
Leeways Packaging Services, Gloucestershire
As a high energy user costing approximately £25,000 per month, Leeways were looking to reduce their environmental impact and drive down day to day costs. This 500kW PV installation will save over £3 million in electricity costs
Kernock Park Plants Ltd, Saltash, Cornwall
Kernock Park Plants is a valued Mypower customer and has just had its latest solar PV install completed in 2019. Despite the end of the Feed-in Tariff, payback on this 94kW install remains the same.
William Gilder Ltd, Teddington, Gloucestershire
William Gilder has a real focus on reducing his business's environmental impact on the local area. The solar PV system maintains this focus by significantly reducing the company's carbon footprint.
Monssi, Evesham
Monssi wanted to take control of its rising energy costs so Mypower installed a 69kW solar PV system on its unusual 'inverted' roof at its headquarters in Evesham.
Lower Clopton Farm Shop, Stratford-Upon-Avon
As its electricity bills continued to rise, Lower Clopton decided to install solar to lower costs and show customers that by producing electricity from its roof there is a wider picture to consider.
Rocket Rentals, Cam
Having been a Mypower customer since 2011, Rocket Rentals recently moved premises and asked Mypower to install 30kWp of solar on their brand new building.
Sheppy's Cider & Farm Shop, Taunton
Sheppy's were keen to develop the green side of the business. The cider works produced high levels of electricity, which was perfect for a Mypower solar PV installation.

Gloucester Cathedral
Let there be light - 1000 year old Gloucester Cathedral reduces its energy costs by 25% and becomes the oldest building of its type in the world to install solar PV.

Walsh Mushrooms, Evesham
To continue their commitment towards sustainable mushroom development the business decided to invest in solar which would help reduce their carbon footprint and running costs.
Lye Cross Farm, Bristol
After discussions with Mole Energy - the green energy arm of Mole Valley Farmers, Mypower install a 172kW array along with six inverters to convert energy into a useable form at Lye Cross Farm.
Bako Western, Cullompton
Mole Valley Farmers recommend Mypower to wholesale distribution company, Bako Western. Mypower subsequently install 249kW of solar PV on their warehouse roof.

Wiles Greenworld, West London
Wiles Greenworld, the second greenest company in the UK, commissioned Mypower to install an 81.8kW solar PV system on the roof of their warehouse.
Cornish potato farm reaps the benefits of solar from Mypower
Mypower advised, designed and installed a solar PV system for an agricultural landlord who owns a large building used for cold storage and packing
Allen Fabs, Evesham
Allen Fabs own, let and manage their own commercial property portfolio and were looking to increase the attractiveness of their rental properties
Aston Farm, Bourton-on-the-Water
Mr Bullock contacted Mypower after a recommendation from a neighbouring farm. Mr Bullock was looking for a solution to cut grain drying costs, farm expenses and one which would provide a ROI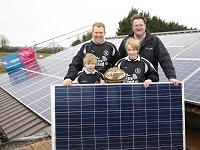 Stow RFC Case study
The 135 year old club is bringing itself up to date by investing £50 000 in solar PV to reduce the clubs energy bills, reduce the club's carbon footprint and secure its energy supply for the future.
Read More >>